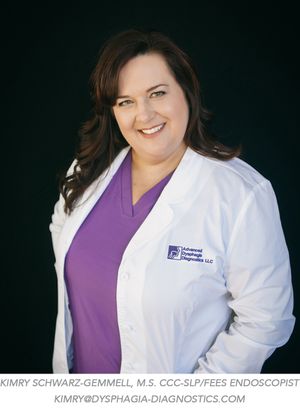 About ADD
ADD (Advanced Dysphagia Diagnostics, LLC) is an innovative medical services company specializing in FEES (Fiberoptic Endoscopic Evaluation of Swallowing). ADD was created by Kimry Schwarz, M.S.CCC-SLP, an experienced Speech-Language Pathologist who identified a need and created an easy-to-use mobile FEES service.
Having provided clinical expertise in Neuro, Pulmonary, HNC, and Cardiac care in the Acute, Rehab, SNF/LTC, and Outpatient Settings since 1998, Kimry brings a wealth of knowledge to each patient evaluation. She teaches university undergraduate courses for SLP students and continues to supervise CF's and Graduate Students during their clinical practicums.
Furthermore, her Rehab Director experience allows her the understanding of how delicate it is to navigate the complexity of billing and scheduling concerns for any facility. All these achievements make Kimry an ideal Service Partner.
ADD-ing Value
ONSITE – All our evaluations are conducted onsite at your facility where the patient is familiar with the environment. There is no need to arrange transport, which can be costly and causes fatigue and stress to your patient.
THERAPY - We can provide Dysphagia therapy on an Outpatient basis for your patients. We can also provide short-term contract therapy services for both Inpatient and Outpatient settings.
CONSULTING – During and after the FEES, we will collaborate with the treating Physician or SLP by discussing the results and, if needed, will assist with the Dysphagia treatment planning. We are also available by phone, email, or text for follow-up treatment discussions.
EDUCATION – ADD provides educational demonstrations and Dysphagia In-Services to Physician Groups, Healthcare Management Teams, Nursing and Therapy Departments, and to organized support groups.
Why Choose ADD
Quality and Timely Evaluations – ADD provides quality evaluations in a timely manner. All evaluations have same-day reporting, allowing for quicker decision making about patient care. FEES videos can be downloaded on a memory device and used for Patient and Caregiver education.
Respectful & Compassionate Service – ADD understands your patients have diverse backgrounds and varying functional levels. We treat all patients with the utmost respect and compassionate care.
Quality Treatment Planning & Documentation – Based on advanced instrumentation diagnostics, FEES allows the treating therapist to specify where the area(s) of swallowing difficulty occur and helps confirm the effectiveness of implemented safety compensatory strategies. FEES can also assist in verifying the most therapeutic electrode placement when NMES is a part of the Dysphagia plan of care.